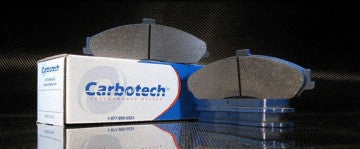 Carbotech Brake Pads Rear Lexus RCF
Carbotech offers a superior brake pad compound for every driving condition:
The 1521 is our high performance street compound. The 1521™ compound is known for its release and modulation, along with unmatched rotor friendliness. 1521™ is also a very low dusting and low noise compound with an excellent initial bite.
The AX6 is specifically engineered for Autocross applications. A high torque brake compound delivering reliable and consistent performance over a very wide operating temperature range of 50°F to 1000°F + (10°C to 537°C+)
The XP8 is a high torque brake compound with a wide operating temperature range of 200°F-1250°F+ (93°C to 676°C+). Carbotech™ XP8™ is the first of our racing compounds. Good initial bite at race temperatures, high coefficient of friction, excellent modulation and release characteristics. Extremely high fade resistance and very rotor friendly.
The XP10 has a very strong initial bite with a coefficient of friction and rotor friendliness unmatched in the industry. Fade resistance is in excess of 1475°F (801°C)
The XP12 has temperature range of 250°F to 1850°F+ (121°C to 1010°C+)
**** there is a $50 core charge, charged by Carbotech built into the price of these pads, if you are price checking, please be aware we build this into our price
---
We Also Recommend