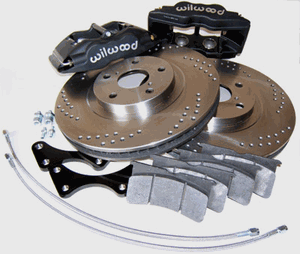 TCS Motorsports 13" Front Big Brake Kit
Product Description
ROTORS: Our Brake kits use a very easy to find rotor. We chose to use the front rotors from the MKIV Supra Twin turbo. This is great for years down the road if you need to replace rotors, you can easily replace your worn ones without having to pay a custom rotor pricetag!

CALIPERS: Wilwood forged Superlite four piston calipers. These calipers are extremely rugged and light to help reduce unsprung weight.

BRAKE PADS: Wilwood BP10 'Smart Pads' low noise, low dust compound designed for high performance street use. These are the pads that are included with our brake kit. This is the best street compound on the market. If you are a competition driver, please keep in mind that not only does Wilwood make 8 different pad compounds for the Superlite to fit your every driving need, but at least 10 other friction companies provide their own assortment of compounds. It would be difficult to completely exhaust your pad options for this caliper.

MOUNTING HARDWARE: Our caliper adapters are made from a heavy duty steel, and come with grade 8 mounting hardware. You will never have to worry about if your hardware/bracket is up to the challenge. We assure you, they are!

BRAKE LINES: Stainless steel braided Teflon hoses are included with each kit. These are a great upgrade to any braking system, and come standard with our brake kits.

This kit is designed for a perfect fit on the front of your vehicle. Bolt these on and go out and enjoy your improved braking!
---
We Also Recommend