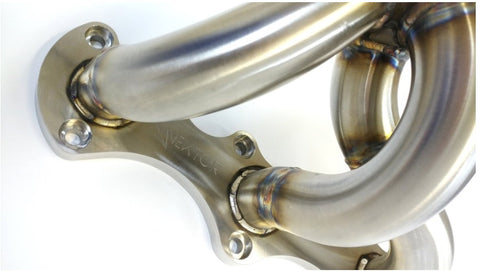 Vektor Performance 991.2 Headers
Our products and their components are made in the USA. 321 stainless steel is used in the construction of our headers for its superior thermal characteristics due to its alloying element titanium. Flanges are precision laser cut out of half inch stainless steel. The tubing is CNC mandrel bent ensuring no loss in diameter of the tube. The collectors are 347 stainless steel cast which is stable at high temperatures and aids in smooth merging from the primaries. All components are mounted in fixtures that provide back purging during the hand welding process which shields the welds on the inside of the header from impurities.
The final product design is put through extensive real world testing on the dyno, track and street until we have the utmost confidence that our header will improve the driving experience of our valued customers. Customers report that a typical installation of our header along with dyno tuning yields approximately a 30 HP gain. Your results may vary based on setup and the dyno / tune. Great care is taken with the production of our product, the selection of our materials, extensive testing, and quality control. You can feel confident purchasing Vektor Performance headers knowing that they are backed by our Lifetime Warranty.
---
We Also Recommend