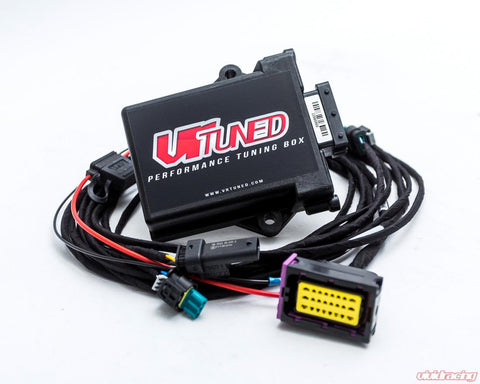 VR Tuned ECU Tuning Box Porsche 718
New from VR Tuned is this performance Tuning Box kit for the Porsche 718 2.0L turbocharged engine. This tuning box kit is a plug and play solution to tune your cars fuel, timing, and boost giving you up to 40% more power and 20% fuel savings. The VR Tuned ECU Tuning Box Kit gives your Cayman or Boxster 2.0L Turbo engine a gain in power from 300bhp to 360bhp gaining you 60hp!  The 2.5L Turbo will go from 350bhp to 380bhp gaining you 30 horsepower.
Plug and Play to avoid warranty issues
Designed for turbocharged vehicles only
Does not lock to vehicle or VIN
Harness has OEM style connectors, no splicing or cutting
Tuning Box features weatherproof case
Digital Microprocessor Controlled
Proven power gains
3 year warranty on parts
Tuning Box cannot eliminate CELs from catless or high flow cat exhaust parts
On the back of the box is a removable cover with

 

dial settings

 

you can adjust. This is to allow small adjustments to the power setting so the box can work correctly in different climate conditions and on different quality fuel.
---
We Also Recommend