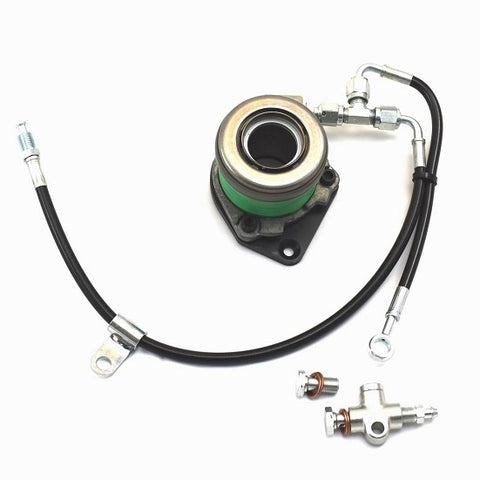 ZSpeed Heavy Duty CSC HD Clutch Slave Cylinder
The ZSpeed HD CSC Heavy Duty Clutch Slave Cylinder will replace the plastic stock Nissan Clutch Slave Cylinder and fluid tube assy.
The stock Nissan Infiniti Clutch slave cylinder is known to fail with after market clutches and is made of Plastic. Fix it now with our Heavy Duty Version!
Our Heavy Duty Clutch Slave Cylinder will bolt directly on to your car with no modifications needed to install.
This kit features an all metal/aluminum construction and includes Braided Stainless clutch fluid lines.
Your stock rubber clutch hose can be reused but we recommend upgrading to our Insulated Flexible SS Stainless Clutch Hose to prevent boiling of the clutch fluid.
The Clutch brands listed below have been confirmed to work correctly with our HD Slave.
OEM Nissan Clutch
ZSpeed Performance "ZSP" Clutch Kits/Packages
JWT  Clutch Kits
Genuine Exedy  Clutch with Genuine Exedy Flywheel (not ebay or amazon as they may not include the proper height exedy flywheel) Be sure to buy from reputable dealer.
South Bend Clutch Clutch Kits
ACT Clutch Kits
Competition Clutch Kits
If you are not using a clutch kit approved from ZSPEED we highly recommend checking stack height of your clutch and flywheel combo,

 

Proper new clutch stack height should measure 80-83mm in height with clutch fully bolted down to flywheel

 

, this measurement is taken from back of flywheels crank mounting surface to top of diaphragm spring of pressure plate.  All of ZSpeed Performances' approved clutch offerings on our website are checked and assured proper height so measurements are not needed. Having too high of a stack height will quickly kill the slave cylinder and reduce clutch life.
To use this with OS Giken Twin Disk Clutches you will need our OS version HD Slave cylinder.
MOTUL RBF600 BRAKE FLUID should be used with this kit. 1 bottle is normally enough to bleed the system.
A new Clutch master cylinder should be installed at the same time, This prevents problems from worn/dirty original units.
No warranty from Zspeed is offered if master cylinder is not replaced. 
Anytime your transmission is pulled you should replace the "Clutch Pilot Bushing"  Not changing the pilot bushing may cause noise if not changed.
---
We Also Recommend